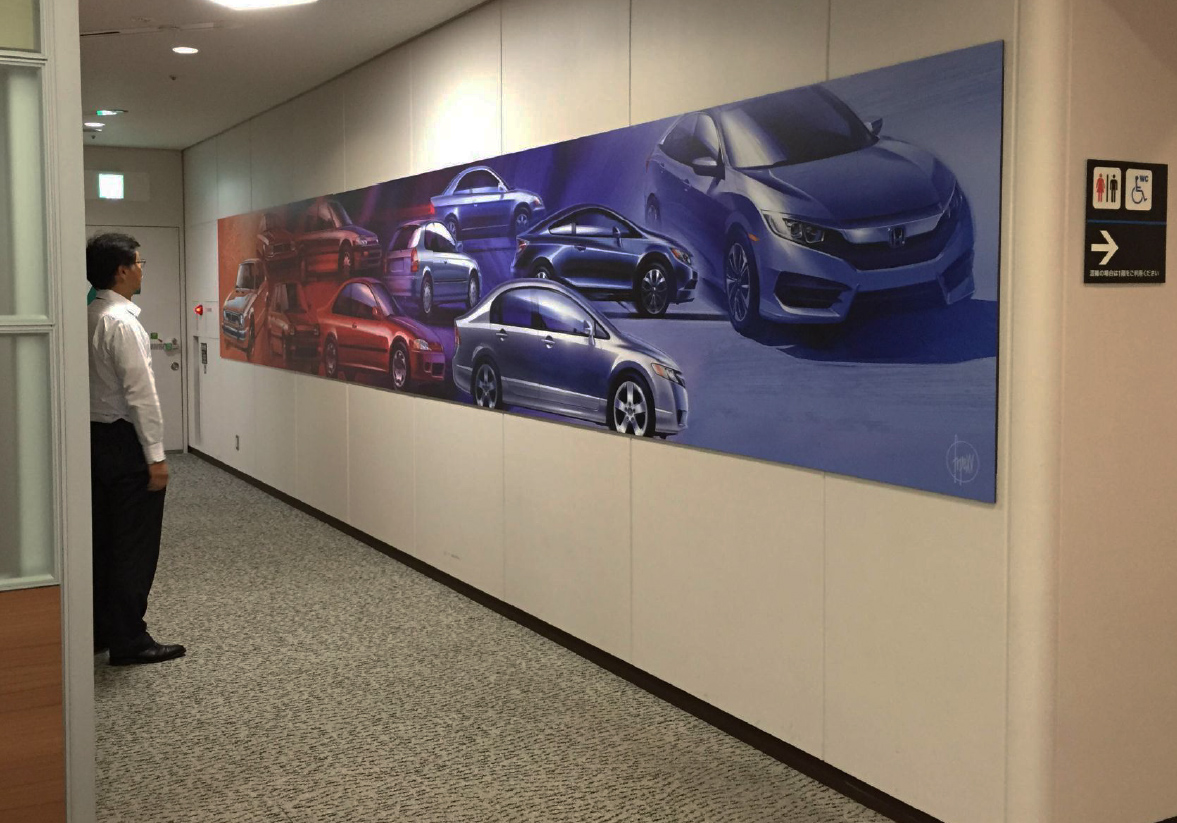 Port of Long Beach, berth 17, cargo rig, 2047
While the safety benefits of autonomous vehicle control were impossible to ignore, certain aspects of human drivers were difficult to replace. A careful balance of autonomous accident avoidance and traffic optimization coupled with the security monitoring and site work (loading/unloading, recharging) ensured the careers of drivers throughout the 21st century.
Electric battery technology made great strides in the late 2030s, vehicle drive, regenerative braking and steering was wheel centric, allowing miraculous small space navigation with 6 wheel steering and parallel scrub crawling.
разведчик
Siberian enclosed cockpit concept FWTV (frigid weather terrain vehicle). Scout in a moonlit clearing, remnants of a recent skirmish.
Lotron TB2
An alt-world autonomous riff on the Lotus turbine car that qualified on pole at Indy in 1968. The shear surface wedge turned on its side has the feeling of the prow of a massive warship, this one instead carving a wake of churning air at 200 mph.
Desmodueller
In the interest of doing an about face of sorts in redesigning this iconic vehicle for a certain desmodus-man, I returned to a more comic-book approach. More style, less bare functionality. Back when the cape was just a cape, not a kevlar reinforced protective shield. There was the inner conflict that always existed with this character that was apparent, but what about the struggle of trying to be stealthy versus the need to be expressive and needing attention? In this design, it's more about expressive impact than functional stealth.
Autonomous F1. Team Modena-Cyber representin'
Autonomous racing is going to happen. Whether or not the public will take interest is still to be seen. In any case, it's an opportunity to readdress rules and bad habits that have accumulated over the years. My fantasy take is a return to the graphic simplicity of the 1960s, before tobacco broke open the advertising floodgates that masked the shapes of the cars. Additionally, reducing aero devices clean up the car and let the software contend with skidding and difficult cornering. This project takes a view through the time wormhole and grabs box art from a model kit in the year 2048.
Lietz-Bell LZB76 Crash Tender Rig
A design from an alternate reality- a crash tender for my autonomous race series, 1980, Austrian Grand Prix. Things are familiar, but new, futuristic, but retro. This series is meant to invoke a feeling of model shop nostalgia and trigger those painful memories of not being able to get that kit you wanted and seeing designs for cars and vehicles around the world in plastic form that you'd never seen with your eyes in real life.
Kaneda SB Neo-Tokyo Aerodeck
With Tetsuo defeated and the threat of rival gang negated, Kaneda enjoys a period of stability and peace in Neo-Tokyo and finishes his garage project. After all, the bike gets a little tiring to drive, and it's nice to be able to pop a cassette into the tape deck and blast some tunes while laying down a black rubber trail across the Eshima Ohashi bridge at 207.5 kph.
Imperial Akwa Wedge Attak Vessel
Slab surfaced marine intercept vessel. Ion drive engine has the juice to outpace and outmaneuver anything of its equivalent firepower. Racing stripe adds nominal performance.
syklopeus
Four-wheel steering and independent suspension on a massive scale allow Syklopeus to trundle over giant slabs of broken lithic detritus.
Commuter Jet
My Concept Design Academy Class for Fall of 2016 is attentive and patient, so I was able to walk them through the entire process of a finished color illustration. Usually I have to rush through fundamentals and end up with a rough, due to time, but it was nice to present the entire process for once. Design took place "on the fly" with the focus being a discussion of using reference for color.
1971 Forghierini 3212TMT "Stradavolare"
The Spruemeister Autonomous F1 kit box art series started with a quick inspiration idea that came to me when I was working on a series of designs of race cars for the early 1900s, and drew one up in 2015 that was a mash-up of a Tyrrell P34 and the wheel tech and body style of the early 1900s. I was already lopping off cabins and windshields to achieve a different aesthetic with that series, and the six-wheeled car eliminated the driver altogether, but I didn't have an explanation fleshed out for how this was possible. For the monthly Agorapode competition in 2016, the challenge to create an autonomous F1 car for the future spurred me on to create a faux model box art package concept. The autonomous F1 as an alt-reality that existed clear back to the 1960s solidified the theme. I wanted to keep a look minimizing sponsorship encroachment into the overall color theme of the car, wing elements as stabilizing, not for downforce, and a iconic common silhouette with a sensor pod in the area where a driver would normally be, then play around with surfacing and proportion using these elements. It ends up being a not-to-be-taken seriously fantasy of many of my favorite elements of many different cars. The wheel setup with massive slicks in back and skinny fronts is something of a nod to t-bucket hot rods,-certainly not good for handling, but in this series, it's all about the impact of something fresh and new from familiar elements. In all honesty, it's essentially just my favorite aspects of many different genres and eras of design and racing frankensteined together into something fresh.
Ghat truk
At dusk, in a light toxic mist, a metallic avalanche rumble of four giant tracks propel a self-levelling payload. Protective autonomous drones buzz like flies around hundreds of tons of valuable cargo from one population center to another across a dry sea bed.
Salt Byker
Class winner in the EE 3892 Auon Surface Runs. The Empire's best pilot met with its best equipment, a highly modified version of the standard scout 74-Z. Aratech Repulsor Company used some of the innovative technonlogy tested on the race course in later versions of the mass produced bike.
Lorin Wood Sketch Swap
Hopefully, this will continue, what a great idea! It started with Vaughan Ling and Christian Pearce trading line drawings to render, then Michael Kus and Lorin Wood. Now I get to participate, starting with a sketch swap with Lorin Wood! Here, Lorin's lines, then my color work.
Pharite Coupe
I wanted to push the proportions, making the steam-powerplant look heavy and massive compared to the car, implying a locomotive. Visibility around the power bulge was negligible to the point where I decided that the driver would use VR goggles instead of a window in the final design. Defensive hardware installed.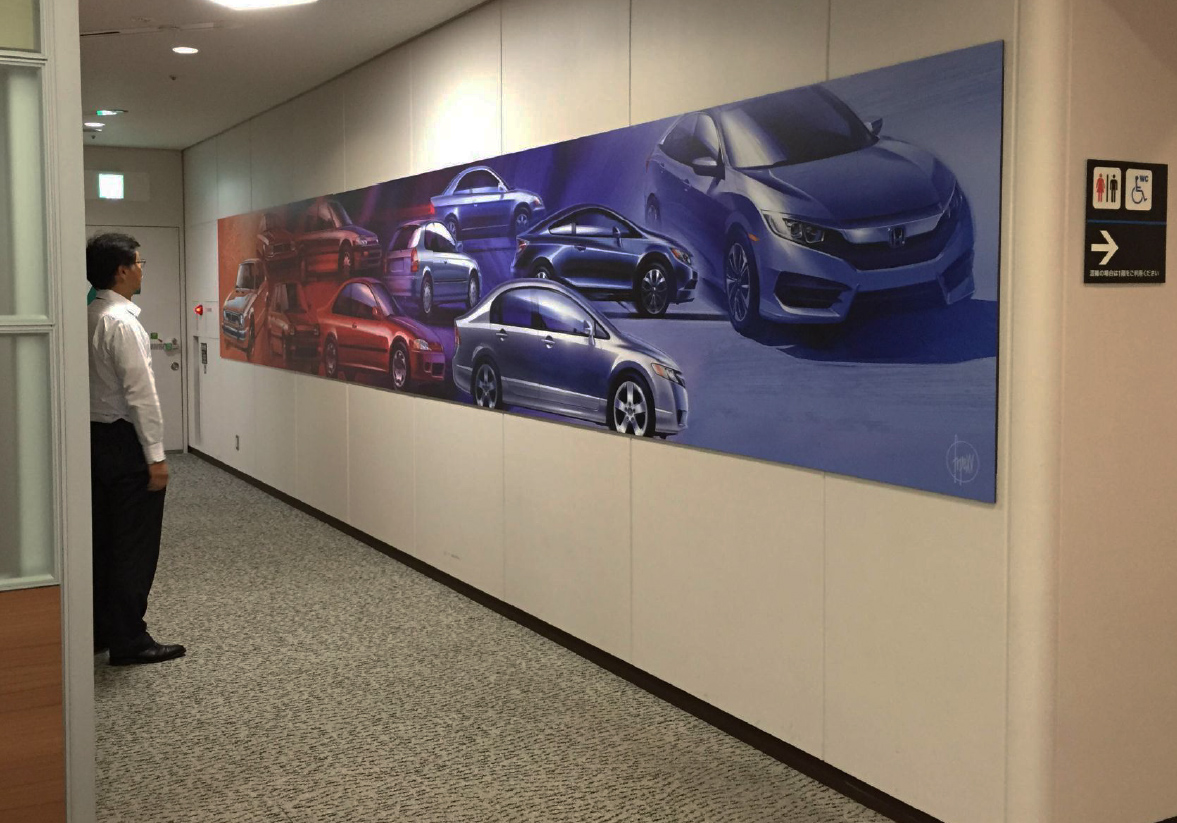 Civic, 10 Generations Mural
Mural on display at Honda HQ in Tokyo. A long term personal project shared originally with the 10th generation development team.
Autonomous F1 Koncept II
FIA standardized sensor head with minimized downforce surfaces for enhanced action and somewhat nostalgic simplified monocoque form.
Dragonaut
In a similar vein to 1960's Ed Roth space-rods, this is my modern take on a genre of customs that could sure use a revival. There's not enough forward looking in rodding, and while this one is retro, it also looks ahead and adds to the aesthetic dictionary. Color scheme of the illo was inspired by 1960's model kit box art.
Nytewatch
A near space transport ship launches over a pre-dawn Arabian desert scene while two mech field engineers take a break from re-lubing an autonomous surveyor bipedal drone.
Given the theme, "Desert Future Truck," by the Agorapode sketch competition committee, I thumbnailed out dozens of ideas and possible directions. At the same time I am considering design, I am thinking about the composition and scene presented in the eventual final illustration. What is this definition of "desert?" Where is it? The original idea was a North American "Western" scene with a tall, lumbering truck with a mass metaphor referencing a 19th Century steam locomotive. Through various iterations over a course of a week and a half, the setting concept evolved. the logic of the design being something akin to a Lamboghini Cheetah for the next century, where Gandini-esque angles meet military contracted functional design. To rough out the complete scene, I added a large mech, Bedu tent and maintenance arm in the background. The sketch was roughed over with general tones and values for daytime desert. When I went to full resolution, midway through, I decided to do pre-dawn lighting.
Sketch Swap II, Vaughan Ling Lines
Got a great ship design from Vaughan Ling to take a shot at rendering up in color.
GP Tens: Brickhouse Special

In one branch of dimensional world history, there was no assassination attempt on Archduke Franz Ferdinand, and as a result, things just settled down in Europe and racing flourished during the second decade of the 20th century. GP Tens, a formula libre brought together the best automotive and aeronautical engineers of the day for insane competition where innovation was the key to winning. William F. Brickhouse, founder of Brickhouse Mining and Medical had the 17 liter V6 built for the 1915 GP Tens Cup race in Pennsylvania. Brickhouse managed third place at the Uniontown board track. In 1916, William's brother, Franklin L. Brickhouse had the car shipped to England where he intended to run at Brooklands, but the steamship rolled over in a storm and sank to the bottom of the North Atlantic. The floatation shipping crate that Franklin had designed as insurance for such an event broke loose as designed, but the crew had survival on their minds, not keeping tabs on the loose cargo. The car was never seen again. The Brickhouse brothers moved on and had success with the 1917 Brickhouse Speedliner, nearly winning the GP Tens Cup that year.
 
GP Tens: Jesperson Superflivver
Trouser magnate Samuel T.Y. Jesperson entered the 1917 GP Tens Cup with a unique chassis built around a Brickhouse parallel straight bank 8. A crowd favorite at Jesperson's home track debut in Dayton, Ohio, the "Superflivver" failed to deliver the goods, dropping two laps to the leader in the first ten. Throughout the season, Team Jesperson managed to chase out some chassis issues that plagued the handling performance, and coaxed an additional 7 bhp out of the 18 liter engine and had a solid points finish by the end of the season, despite not winning a single podium. The car was put in storage immediately at the close of the season in anticipation of running in 1918, but Jesperson contracted typhoid while on vacation in French-Indochina that winter. The car was unearthed from the coach house of the Jesperson estate in 1952 by the great-nephew of S. Jesperson and is in preserved, but unrestored condition, permanently displayed at the GP Tens Museum in Waukesha, Wisconsin.
GP Tens: La Victoire Totale "Lupin"
La Victoire Totale. Shakedown, Pendine Sands, Carmarthen, 1917. Archie Leabo, pilot.
Military Truk
A work in progress, finished enough to find a spot in this feed.
Ralimorphotik
Looking into the future, one-hundred and fifty years from now, the Twenty-Second Century, racing will certainly evolve with technology. One of the exciting technologies that may develop into fantastic implementation is fluid objects and materials- parts of a vehicle that can change form and take on different properties. The tires themselves may seamlessly blend into the underside of the car as it takes to flight on jumps, as a ski-jumper would find the best form to pass-through the air. Quantum locking aerodynamic surfaces might not need to be attached with airflow disturbing struts, but will seem to hover without support, and yet still transmit the needed downforce to the car chassis. Where will the driver be? Is there a human driver? Safety will render clear windows obsolete, especially when more sponsorship real-estate is provided.
Claret Baron
I did this kind of mass balance for a bathyscaphe design, for some reason my creative subconscious replayed it in aerial form. Don't analyze the technology, there's no backstory there.
Honda RA303
The number sequence of each subsequent chassis design in the three-liter class ended in 1968 for Honda, who decided to focus engineering manpower and budget on the production automobile development. Another impetus was the tragic French Grand Prix in Rouen. Was next year's car on the drawing board? Was the RA303 in development during 1968? What would it have looked like? One can only guess.
Concept Design Academy in-class demo
Went through the sketch to rendo process with my Concept Vehicle Design class at Concept Design Academy in Pasadena with this. Ballpoint on paper initial sketch, photo with iPhone then line drawing taken into Photoshop for color and finish.
Megafueller detonation at .25 mile
Neck and neck right up to the 1/4 mile when the dragster in the B-lane yawed hard toward the wall, spraying shards of gears, then acidic vaporized fuel. Acting subconsciously, the pilot squeezed the ejector handle twice which sent the car into autocorrect and got it pointed as much as was mechanically possible considering that the tires were beginning to liquify, and then the anodized crystal cockpit dome flipped over and the ejector seat sent the driver clear of the conflagration.
F1 Hoverkraft
Atypical six thruster concept from Tyrell for the 2092 season in popular retro livery. At lower, closeup of camera drone.
Spacesheeps
A loose theme of racing air/spaceships of some sort as an example for my students of design process for the Concept Vehicle Design course at Concept Design Academy. Line drawing in ball point pen on 8.5x11 copy bond. Clean up and color in Photoshop.
 
Bad Penny
Illo for Dwayne Vance's "Masters of The Chicken Scratch II" book. Published in 2011, coincidentally CDC Concepts produced a custom Mustang with pretty much the same graphic color breakup and name...I'm not saying they copied...but that's a heck of a coincidence.
Golden Apotheosis variants